Photos from the collection are processed in a laboratory established in Montreal for more than 30 years. Using the finest pigment printing technology with a lifespan of 100 to 200 years, the work is rendered on Hahnemühle    Photo Rag® Ultra Smooth Matt 308 gsm, 100% Cotton, white, acid free Fine Art paper. Prints are produced on a                 HP DesignJet Z9 device using original pigmented inks from Hewlett-Packard.
Prints come in limited edition of 5. Some prints can be purchased in "arbitrary" editions at a lower cost.
Each limited edition print comes with a certificate of authenticity (English or French) signed by the artist. The certificate is provided with a tamper-proof polyester holographic seal with a serial number. The seal is found on the work as well as an authentication label signed by the artist.
A duplicate of documents of authenticity is kept in the vault of the Montreal DCS headquarters, to ensure traceability and thus exclude any possibility of counterfeiting, ensuring the origin of the print in the event of a resale in an auction or to an individual.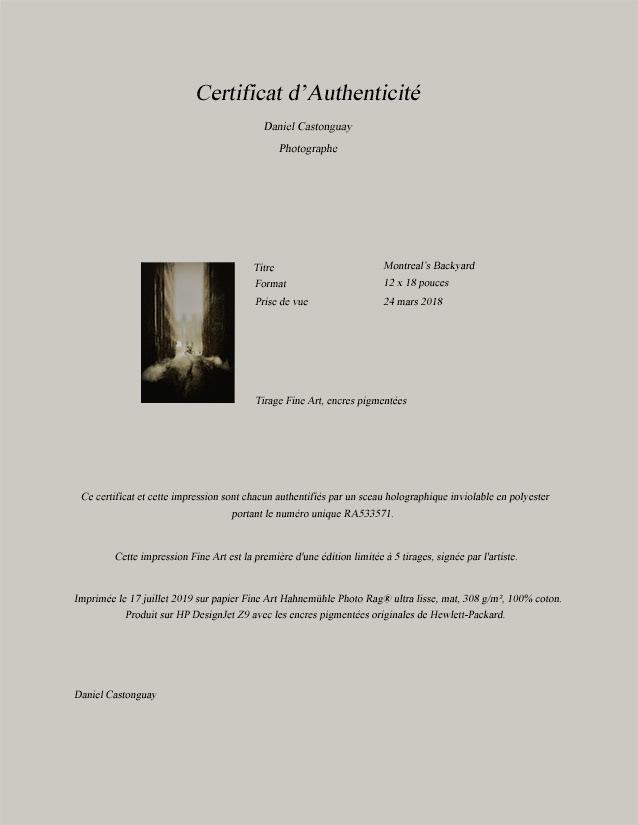 Print formats are from 12x18 up to 36x54 inches (30x45 up to 90x135 cm).
You can get in touch for pricing, art dealers and shipping details.​​​​​​​